Bernardo Group has serviced the construction industry since 1934, building a reputation for professionalism, integrity and dependability as a commercial flooring contractor and a natural stone manufacturer.
We have a complete showroom open to the public as well as construction and design professionals.  Our scope of work includes countertops, backsplashes, vanities and fireplaces.  We showcase a variety of samples including quartz, granite, marble, porcelain and slate. 
Commercial Flooring:
Bernardo Group enjoys great success in the supply and installation of commercial flooring products. We cater to the flooring needs of institutional, commercial and industrial clients, in such diversified products as terrazzo, carpet, linoleum, vinyl, ceramic and stone tiles. We not only install new flooring but also service existing floors with repairs and replacement of commercial flooring of all types.  
Natural Stone Products:
As a natural stone manufacturer, Bernardo Group works with a wide variety of materials that include granites, marbles, limestones, slates as well as engineered quartz. We manufacture and install countertops, fireplace surrounds, wall claddings both in the interior and exterior. Being custom fabricators, we can meet the needs of almost any project that includes natural stone or engineered quartz products.
Our services also include supply and installation of natural stone tiles, porcelain tiles and range of mosaics for the residential market.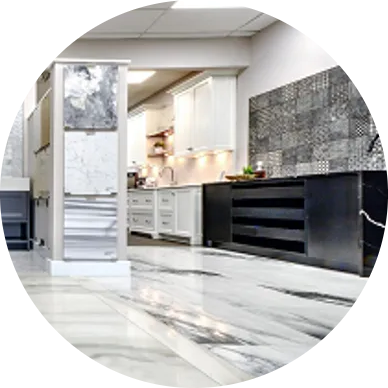 Our renovated showroom is open and
our design experts are here to help!